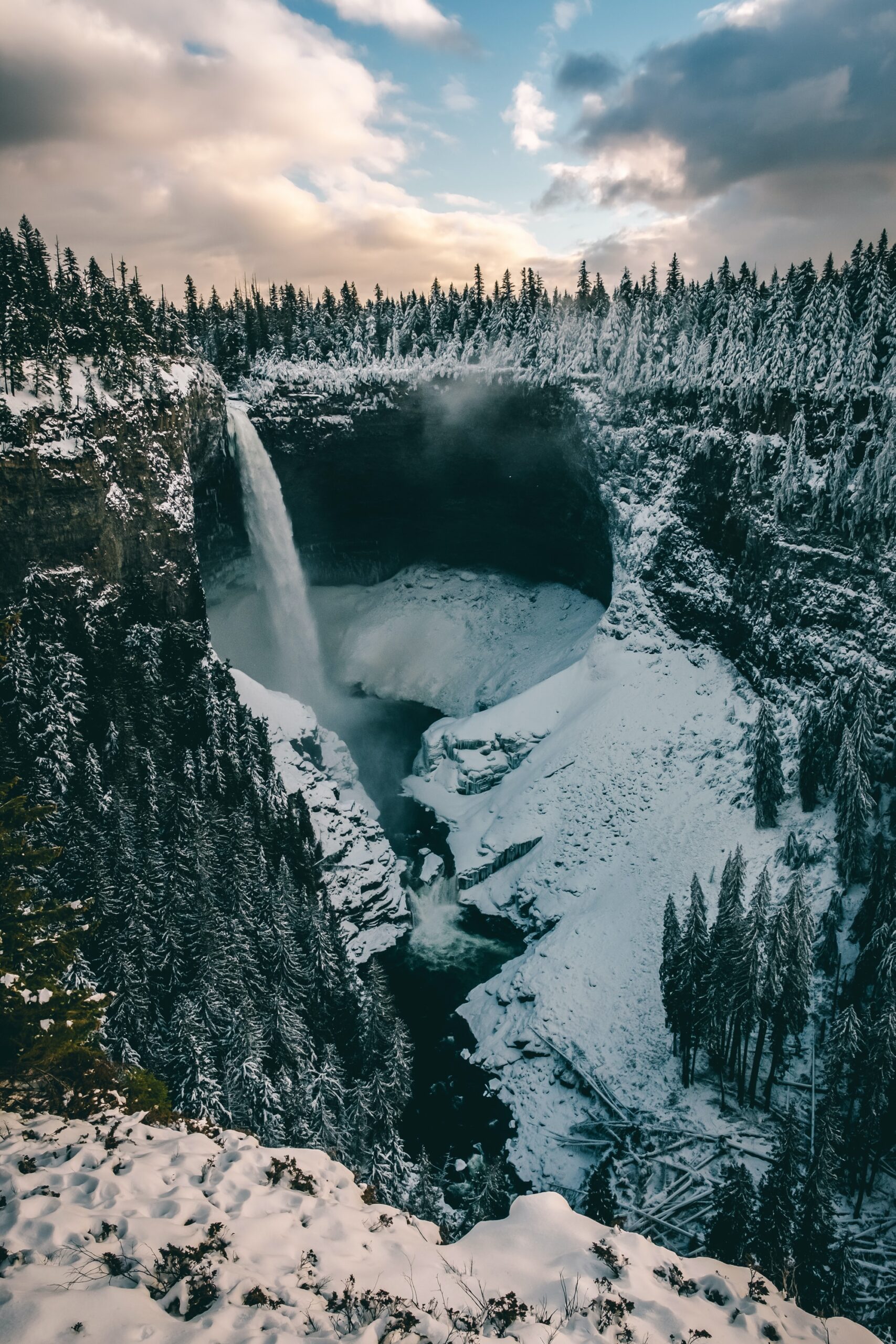 Winter Waterfalls
Wells Gray Park is also dubbed the "Waterfall Park" thanks to the vast volcanic and glacial history of the area. Layers of lava from volcanic eruptions coupled with the carving effect of glacial activity created the Clearwater River Valley, and many of its tributaries have sculpted the mountains to bare beautiful and dramatic waterfalls.
Helmcken Falls
The most famous of these is Helmcken Falls. Its discovery was attributed to Robert Henry Lee, who discovered the falls when working along the Murtle River as a land surveyor for the British Columbia Government. It was said that on the 24 July 1913 he left his remote camp and walked along the Murtle River when he came across the falls. He wrote to Premier of British Columbia Government , Sir Richard McBride and asked that the falls be named "McBride Falls". Instead the falls were named Helmcken Falls after John Sebastian Helmcken, a physician who worked for the Hudson Bay Company (Neave, Roland (2004), Exploring Wells Gray Park, 5th edition). Dr. Helmcken actually never saw Helmcken Falls!
Dawson Falls
Dawson Falls were also discovered by Robert Henry Lee in the summer of 1913. As the Surveyor-General for British Columbia he was tasked to survey homesteader lots along the Murtle River. Dawson Falls is a 90 meter wide curtain of water cascading over a layer of lava. This layer of lava is over 200,000 years old and sits on a gravel bed that predates this eruption.
You will also hear Dawson Falls being called the "Mini Niagara" due to its similar horseshoe shape.
Spahats Falls:
Spahats Falls is 75 meters high, flowing over a lava bed that came into existence about 600,000 years ago. The Spahats Creek carved the canyon all the way back to its present location from the Clearwater River Valley that had already been formed. The creek was able to do so due to the high volume of silt laden glacial melt from the previous ice-age. Once the snow starts to come down, the Spahats Falls area can become inaccessible – the road is not cleared of snow.
These are just 3 waterfalls…. what about Silver Tip Falls, Silvia Falls or Majures Falls? Just ask the information Center for your FREE self guided waterfall map.