Contents to come soon. In the mean time call 250 674 3334 for more info.
Snowshoeing in Wells Gray Park and Clearwater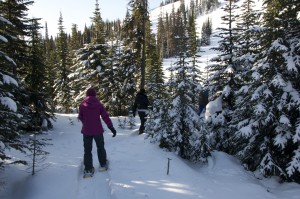 Snowshoeing is quickly becoming a favorite winter pastime for many, mostly because its easy to do, inexpensive and provides unhindered freedom in the winter landscape. It is also a great way to keep in shape! Add a pair of walking / skiing poles, and it's an all body workout.
Most of the summer hiking trails become winter snowshoe trails. Lets take a quick look at a few of our favorites:
The Clearwater River Trail: This is a beautiful trail that starts in the Dutch Lake subdivision. The trail follows the Clearwater River, taking you to beautiful lookout points and vistas.
The North Thompson River Park: Located just 5km south of Clearwater, the North Thompson Park is a great area for snowshoeing, as there are multiple trails that offer a great mix of river views and forest trails. An excellent area to start your love affair with snowshoeing.
Moul Falls: The trail head is located approximately 21km along the Clearwater Valley Road from the Information Centre. The trail winds through open deciduous forest, and along Moul Creek for about 40  minutes. Snowshoe to the base of the falls and you will be met by a cathedral of ice towers. A beautiful sight indeed.
Waterfall Tour: The self-guided waterfall tour during the summer is spectacular during the winter as well. All the waterfalls freeze, forming large towers of ice. Those that don't freeze build substantial ice-cones at their bases. Snowshoe for 5 minutes or for an hour.