Star Lake Fishing Resort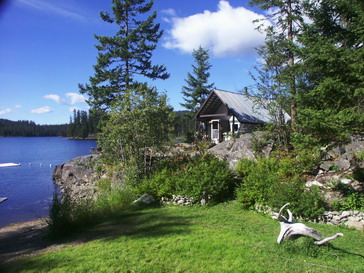 What's on offer
Five bright, clean housekeeping cabins
Ten private campsites.
Three of the five cabins, and four of the campsites, are right on the water's edge.
All five cabins have a fantastic view of the lake.
Four of our campsites have their own private decks.
Cabins are equipped with propane stoves, fridges, and lights and have a woodstove for heat.
Each cabin has its own fire-pit and picnic table.
Beds are made up with a fitted sheet & pillows in cases; guests should bring their own bedding or sleeping bags & personal towels. We can provide full bedding & towels with an additional charge.
You can learn more about the Star Lake Fishing Resort at www.starlakefishingresort.com
You can also phone them at 250-674-8494