Clearwater Canoe Regatta 2017
September 9, 2017 @ 09:00

-

16:00
The Canoe Regatta is back! Join the community at the water on September 9th for a day of games, competition, and fun. This year, there is no cost to enter the regatta thanks to generous donations by community sponsors. It takes place at the Dutch Lake Beach from 9AM to 4PM.
From the Facebook page:
"A full day of fun races and all FREE events at Dutch Lake in Clearwater, BC. Bring your community spirit!
Clearwater Canoe Regatta events line-up:
-8AM Run for Fun! Run or walk a 5km route.
-9AM Rotary Relay Race. Individual or team up to 4 5km run, 10km bike and Canoe around the island
-10AM Kids Triathalon for ages 6-10.
-11AM Opening Ceremony
-11:30 AM Family Canoe Race
-11:30AM CANFOR Community BBQ! Free:)
-12:30-3:30PM Activities and Games on the Beach
-1PM The Main Event! Challenge First Responders in obstacles and canoe races, support those who do so much!
-1:30PM Whatever floats your boat! Create a raft from materials and race it to the finish line.
-2PM Paddle Board/Kayak Race, Bring your own to race.
-3PM Dinghy Dash Surprise, Teams of two race to win
-3:30PM Scavenger Hunt, teams of four race to win.
Thanks to the generous sponsors, all events and the community BBQ are free.
Arts, crafts and face painting. Be a participant and/or come and be a spectator."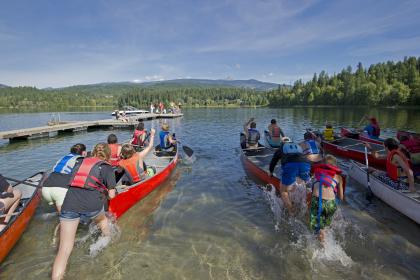 Image above taken from wellsgray.ca/site/events.html